Chromium carbide wear-resistant steel plate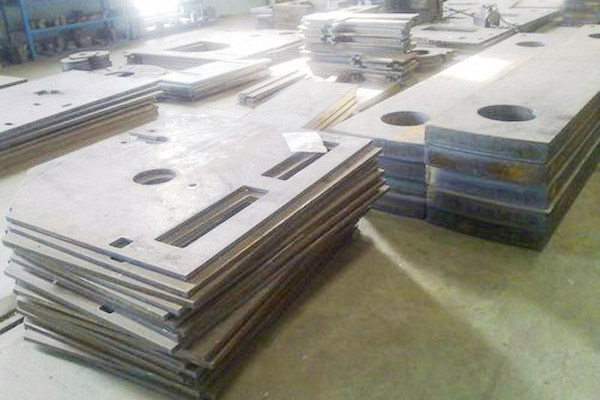 Chromium carbide wear-resistant steel plate
Main features: high hardness, wear resistance, impact resistance, high temperature resistance
technical parameter:
technical parameter:
Thickness: 4-40mm
Length and width specifications: can be customized
Installation method: bolt, welding
Hardness: Macro hardness HRC57—65
Specific gravity: 7.8
Can special-shaped parts: special-shaped parts can be customized
Production process: cladding
Extremely high quality: super
Corrosion resistance: good
Packaging: Naked
Working temperature: -60℃~600℃
Cutting method: Plasma cutting is recommended
Lead time: in stock
Payment method: 10-0
Can be customized: Yes
Drawing design: can provide
Material: low carbon steel base + chromium carbide alloy layer
Common specifications: 5+3, 6+4, 6+6, 8+3, 8+4, 8+5, 8+6, 8+8, 10+6, 10+10 (can also be made according to user requirements)
Width specifications: 1400X3000mm, 1400X3400mm (can also be made according to user requirements)
Wear-resistant layer alloy composition: C: 5.0%, Cr: 27-35%,
Martensite matrix + a large number of Cr7C3 carbides over 60%
Hardness: alloy layer macro hardness HRC57-65, carbide hardness HV1400-1800
Wear resistance: 20-25 times that of low-carbon steel, 8-12 times that of stainless steel and high-manganese steel, and more than 1.5 times that of general high-carbon and high-chromium wear-resistant steel plates
High temperature resistance: ordinary type <600℃; high temperature type <1000℃.
Impact resistance: The wear-resistant alloy layer is completely metallurgically combined with the base material, which is resistant to strong impact, and there is no need to worry about falling off.
Connectivity:
1. Welding, which can be welded into various structural parts or components through the welding of the base layer steel plate
2. For mechanical connection, a plasma cutting gun is used to punch holes in the wear-resistant composite steel plate, and bolts are used to fix it on the protected equipment, which is convenient for maintenance and replacement.
The chromium carbide wear-resistant steel plate is a hypereutectic alloy composite laminate composed of up to 35% chromium carbide alloy metallographically fused to a suitable steel substrate. Carbide with high chromium carbide content makes wear-resistant steel plates suitable for extremely abrasive environments. The surface of chromium carbide steel plate is very smooth and flat after application for some time, which makes its surface friction coefficient very low. This property makes it an ideal material for applications where it hangs upright and is subject to scouring.
The chromium carbide wear-resistant steel plate has a very uniform penetration layer, the adhesion between the composite layer and the substrate is the largest, and the penetration and diffusion are the smallest. Chromium carbide wear-resistant steel plates generally use medium carbon steel as the substrate. This is easy to shape, especially the molding of complex shapes. And has a unique ability to absorb shock. According to customer's special order, our company can also provide composite boards with different material substrates. There is a wide range of various alloy structural composite laminates to meet the unique requirements of customers. The construction site often needs to use welding rods and welding wires to fill installation gaps, strengthen and repair severely worn parts, etc. Beijing Naimer can provide welding rods and welding wires with various alloy compositions.